DRUM-MATES ® Bung Adapter Solutions
For equipment recommendations, email your completed Application Questionnaire to .

DRUM-MATES ® line of bung adapters for drums, IBC's (totes) and tanks include a full range of international bung ThreadConverter solutions, for drums from China, Japan, and most other parts of the world. Our ThreadGuards and TubeGuard adapters provide for virtually any type of application where container and equipment are essential for providing safe, clean, economical, efficient processing operations.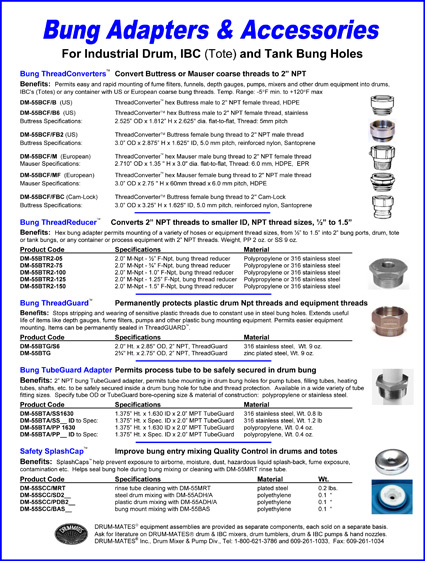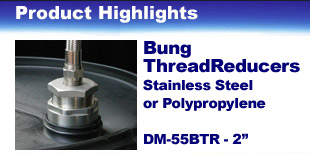 55BTR_2in Bung ThreadReducers

Bung ThreadReducers™
Stainless Steel or Polypropylene
Safer > Easier > Quicker Equipment Mounting
Reduces 2" Bung Openings for Mounting Equipment in Drums, IBC's and Tanks

Mounting equipment into the 2" Npt fine thread or Buttress* coarse thread bung holes of drums, IBC's (totes) tanks, reservoirs, day tanks and other vessels can now be less time consuming and easier. Correct mounting of bung equipment results in more safe, efficient operating conditions, with less down time.